Grace
Updated: Nov 14, 2018


A poignant and vibrant tale about family and music.


Streaming on Netflix | 2017 | PG | 1h 45m
Genre: Animated, Children and Family
Why I watched: I picked Coco this week because it feels so seasonal! It takes place during Día de los Muertos, or the Day of the Dead, a Mexican holiday celebrating friends and family members who have died, and which occurs at the beginning of November each year. Día de los Muertos and Halloween are often compared because both celebrate life after death and share some similar customs. 
You might also like: Go on, watch Stranger Things again; you know you want to! And this might be a good time to give Lemony Snicket's A Series of Unfortunate Events a watch. Or maybe take your pick from our Witch Roundup. 'Tis the season!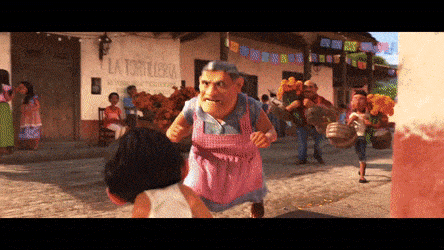 Abuelita does not back down!
This always happens to me: I see previews and hear all the hype about some new children's [read: animated] movie, and I immediately dismiss it as "too young" for me, only to be proven THOROUGHLY wrong when eventually I watch it on Netflix a year or two later. Coco, like Moana before it, is one such "children's" movie. 
With every passing year, I think more and more about family—about where, and especially who, I come from. As who I am, my essence, seems to firm up (my prefrontal cortex is fully formed by now, thank you very much), I find myself trying to sort out the mystery. Where does my strong sense of principle come from, or my love for cooking? With each quality, I run through the list: if it's not from my mom, then it's probably my dad. But if it's neither of them, then who? My grandmother, Joy, whom I never met? My grandfather, Harry, who died when I was 15? Do I carry parts of them around with me without even knowing it? Are aspects of my personality plucked from their genes?
This movie asks some of those same questions. It's about music, but it's especially about family. The main character, a 12-year old boy named Miguel (voiced by the phenomenal Anthony Gonzalez), is a musician who teaches himself to play guitar and sing by watching old videos of his idol, the movie star and musician Ernesto de la Cruz (Benjamin Bratt). A musical prodigy, Miguel lives and breathes music—in secret. To say that his family dislikes music and musicians is an understatement. His abuelita (Renee Victor) does not think twice before beating stray musicians with her shoe—which, by the way, is the family business: shoemaking. Musical Miguel has no interest in the family business, and he doesn't have much use for his family, either. They just don't get him, and he seems not to have anything in common with them. Instead, he dreams about his great-great-grandfather, "that musician" his family refuses to talk about or even name. The man abandoned his wife (Miguel's great-great-grandmother Imelda, Alanna Ubach) and their little girl, Coco (Miguel's great-grandmother, Ana Ofelia Murguía), who is still alive, but rapidly "forgetting" as dementia grips her.   When Miguel's relationship with his family reaches a boiling point on Día de los Muertos, he finds himself unexpectedly in the Land of the Dead, where he meets his ancestors, the people whose pictures his living family has placed on the ofrenda, or a private altar dedicated to remembering the dead, year after year. Living people are not supposed to be in the Land of the Dead, so Miguel disguises himself as a skeleton and searches for de la Cruz, his idol and—Miguel believes—his great-great-grandfather, "that musician" who abandoned his family all those years ago. Along the way he meets a down-and-out skeleton named Hector (Gael García Bernal), who will change Miguel's perspective on family and teach him the importance of keeping the memory of his ancestors alive. 
This movie is visually stunning, and why wouldn't it be? Pixar spent $175 million and six years on it, and that investment paid off. Coco grossed over $800 million worldwide and won Academy Awards for best animated feature and best original song ("Remember Me") in 2017. But it didn't win those awards just for its incredible animation; Coco is acutely touching and sweet, and it features a rich, exciting cornerstone of Mexican culture. I shed a tear (or twenty), but I also smiled and couch-danced and laughed. You're in for a real treat with this one, friends. 
Happy Streaming! Grace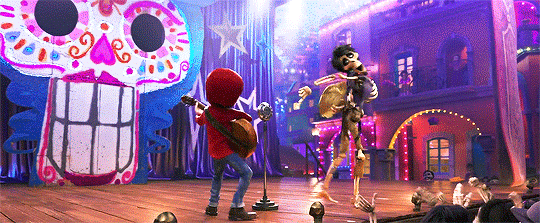 Miguel is a hit in the Land of the Dead!