Liz
Streaming on HBO
Metadata: 2017 | PG-13 | 2h 3m
Genre: Sports Drama/Comedy, Biopic, (and Romance!)
Why I watched:  I love a good sports movie, especially of the based-on-a-True-Story variety. (Maybe I'll do a sports drama round-up this fall...). And I also love Little Miss Sunshine, the previous film from director duo Valerie Faris and Jonathan Dayton. So when this popped up on HBO, I was downright giddy. Battle of the Sexes didn't dissapoint!
You might also like: Did I mention that I could do a sports drama roundup? Because I definitely could. The undervalued 42, a Jackie Robinson biopic staring King T'Challa (aka Chadwick Boseman), is streaming on Netflix. As is Miracle, the true story of Olympic matchup between Russian and U.S. mens hockey teams.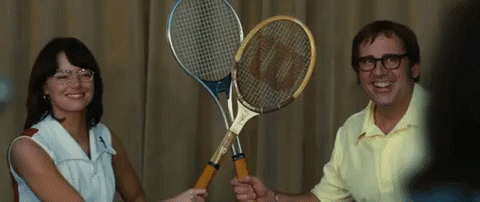 Bobby Riggs: How about this: man versus woman? Male chauvinist pig versus hairy legged feminist. No offense. You're still a feminist, right? | Billie Jean King: No, I'm a tennis player who happens to be a woman.
Battle of the Sexes follows the lead up to the 1973 tennis match between Billie Jean King (Emma Stone), then a 29-year-old Wimbledon champion, and Bobby Riggs (Steve Carell), a 55-year-old showboat and former world champion. Set against a backdrop of women's liberation and nationwide fights for equal pay, the match stood in for a question of whether or not women's tennis champions deserved as much as men—a fight that would go on until Venus Williams advocated for and won equal prize money at Wimbledon in 2005. The match between King and Riggs drew 30,472 attendees to the Houston Astrodome and was seen by 90 million TV viewers, still the record for the largest crowd toever attend or watch at a match. 
The real-life story behind the film makes it worth watching, but it's the acting that makes it absolutely enjoyable. Stone and Carell put on near-perfect performances, both garnering buckets-full of empathy from me (and from you, when you watch it, because you should!). Carell's version of Riggs paints him as an old-school sexist who is ridiculous but still affable—which is surprising, considering Riggs's very loathsome one-liners could make him look pretty icky. (Such as, "If I am to be a chauvinist pig, I want tobe the number one pig."). But King is undeniably the star. Stone plays her as performative: She's confident on the court and in public appearances as she lobbied for women's liberation, but is necessarily guarded in an age when being a lesbian was completely taboo. 
In 1970, King and eight other female players joined together for an all-women's tour. They signed $1 contracts and sat out of Jack Kramer's tournament.
Yes, this is about the big King vs. Riggs showdown, but there are many other battles taking place. The film starts with King taking on the Association of Tennis Professionals director Jack Kramer (Bill Pullman), who plans to pay men's champions $12,000 and women's $1,500 at an upcoming tournament. Riggs's wife Priscilla (a remarkable Elisabeth Shue) tells him she can't stay married to him any longer, not because of his spectacular idiocy but because he can't break a gambling addiction. King's husband Larry (Austin Stowell) remains supportive through the pain of her romantic relationship with the free spirited Marilyn Barnett (Andrea Riseborough). It's the final plot point that lead more than a few—myself included—to notice that Battle of the Sexes is just as much a love story as it is sports story. When she wins the match against Riggs, we're solidly on her side of course, but her relationship with Marilyn provides the film with its emotional core. 
In all, Battle of the Sexes serves up a steady stream of challenges and triumphs. It's the triumph that leaves us feeling full at the end, even if it's clear from the conclusion that women's tennis (and the world) have a long way to go when it comes to equality. As King points out, it's not the Bobby Riggs that we have to worry about—it's the Jack Kramers.
You're really, really going to like this movie. You're going to laugh. Maybe cry. And feel like you've won something in the end.
Game, set, match!
Liz
Even though I knew exactly what was coming, I still cried at the end!