Tess
A Brilliant, Boozy Thriller at 30,000 Feet
Streaming on HBO Max | 2020 | TV-14 | 1 season
Genre: Dark comedy/thriller miniseries with a splash of mystery Why We Watched: This fall I listened to an episode of the podcast Armchair Expert with actress Kaley Cuoco. She talked about several things—her horses, her husband, and her then-forthcoming TV show, The Flight Attendant. I wasn't the biggest fan of The Big Bang Theory so I wasn't terribly familiar with her previous work, but a fizzy, darkly comedic thriller sounded right up my alley. Once I started watching, the show went down the hatch like one of Cassie Bowden's bottles of vodka (AKA in a single sitting). You Might Also Like: If you're a fan of thrillers, let me introduce you to You. The show follows Joe (Penn Badgley), who will go to, erm, extreme measures to prove he'll do what it takes for love. It'll keep you on the edge of your seat from start to finish. If you're here for The Flight Attendant's dark and suspenseful mood, I highly recommend Riverdale. It's a campy, noir take on the Archie Comics that's the perfect escape from reality.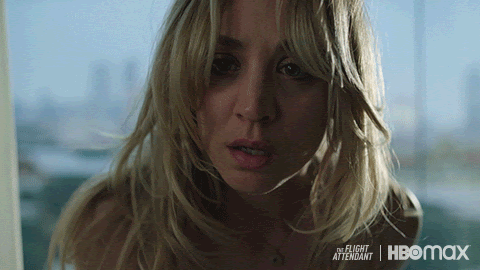 Realizing your night out went a tad sideways.
Lately, we've been hitting your inbox with our favorite calming, feel-good picks. But sometimes escapism can look a little darker and different, albeit still engrossing. The Flight Attendant is exactly that. It's fast-paced, addictive, and bingeable enough I watched it twice. Based on a 2018 novel by Chris Bohjalian, the miniseries features flight attendant Cassie Bowden (Kaley Cuoco). She's an alcoholic who's a bit reckless. Oh, and she rarely keeps any food in her fridge. But the premise isn't that simple (although I'd love a breakdown of what she ate on any given day). After working a flight to Bangkok, Cassie has a booze-fueled one-night stand with one of the passengers, played by Michiel Huisman. When she wakes up, he's dead—and she's left trying to figure out if she's the killer. The episodes that follow peel back the many layers around the mystery of who killed Alex and why. I promise, you won't see the final twists coming. What I find exceptional about the series, though, is that it puts women in the pilot's seat. The Flight Attendant is helmed by a cast of talented actresses: Zosia Mamet in a brilliant performance as Cassie's best friend Annie, Rosie Perez as fellow flight attendant Megan, and Michelle Gomez as businesswoman Elena King. Each has her own secrets and are fully three-dimensional characters—uncommon for women in this genre, which has historically been a white boys' club. Beyond unraveling a clever mystery, The Flight Attendant also nails fashion, from the chic flight attendant uniform to Cassie's stunning gold dress in Bangkok. (Also: coats.) I did my fair share of Googling and—in case you're wondering—the coats are designer, but the shirts are Madewell. Have at it! Critics have been buzzing about the show since its initial premiere this fall, describing it as a "zip of a beach read." But co-showrunner Steve Yockey put it best: "The goal is to make something that's like Pop Rocks. That's this explosion of flavor that turns into something else when you put it in your mouth—this unexpected thing." The unexpected twists and turns are what make this show special and have me excited for an eventual season two. So, if you're looking for something fizzy and fun this weekend: Grab some popcorn, buckle up, and enjoy the flight show! Happy streaming! —Tess
Thanks for flying with us!