Tess
The Great British Baking Show
A feel-good treat for fall.
Streaming on Netflix | 2010 - Present | TV-14 | 7 seasons
Genre: Cozy, feel-good British reality TV Why We Watched: It's been a week. All I've wanted to do is curl up with a blanket and watch the TV equivalent of comfort food. When I saw The Great British Baking Show started dropping episodes of its new season, I knew this was exactly what I needed.
You Might Also Like: To start with the obvious: you should watch Queer Eye. The show's five seasons (plus Queer Eye: We're in Japan!) on Netflix are wonderful and will leave you wanting to be JVN's bestie. And, if you're in need of even more feel-good TV, The Good Place and Schitt's Creek are the equivalent of putting on your coziest sweater and brewing a warm cup of tea.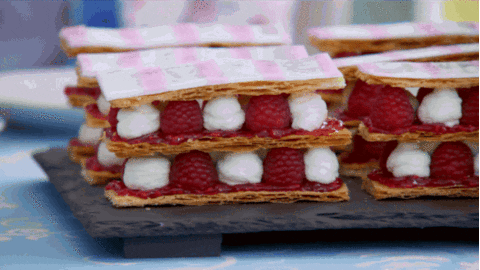 Warning: Prepare snacks (or dare I say... a good bake) before watching.
As you might have realized, the What To Watch team is a big fan of The Great British Baking Show. Somehow we haven't devoted a full newsletter to it, but we've recommended it in our "You Might Also Like" section no less than six times:
The Great British Baking Show is guaranteed to make you feel all kinds of good. The lovely British contestants are so dang nice to each other, and their adorable jokes always strike just the right note. This one pulls double quarantine duty: it'll inspire you to whip up some delicious bakes of your own AND you can daydream about hanging out in a tent in the English countryside.

Can I re-recommend both Queer Eye and The Great British Baking Show? Because that's what I'm doing. And I'm not apologizing for it.

The constant bandying of polite, light trash-talking (a la The Great British Baking Show) seems so quintessentially British.

And, if you're in need of even more feel-good TV, look no further. The Great British Baking Show and The Good Place both recently dropped new seasons and will give you the best wholesome, cozy mood boost.

Or maybe take a load off and watch the two episodes of the Great British Baking Show: Holidays on Netflix.

The Great British Baking Show on Netflix is utterly delightful, and if you haven't watched it yet, you're in for a real treat.
Needless to say... we think it's a pretty comforting TV show? And, in continuously tumultuous year, The Great British Baking Show is perfect escapist viewing. The premise is quite simple: A group of amateur bakers compete in a series of challenges in hopes of being named the U.K.'s best. But—unlike many reality TV shows that thrive on drama between contestants—baking is the star of the show. As a result, contestants are supportive, hosts are encouraging, and judges are critical yet constructive. It's a wholesome TV show from the time contestants enter the tent until they leave with their final bake. New episodes will be available every Friday this fall until the season crowns a winner. Bundle up with a blanket, grab yourself a sweet treat, and get ready to enjoy. Happy streaming,
Tess
Cheers for making it to the weekend!