Liz
Feel-Good Roundup: Part 2
Something to Stream While You Stay at Home
How are you doing? OK? Hang in there. This won't last forever. 
We'll admit that we are a little out of steam for new things—right now, we're craving predictable movies and series that make us feel like everything is normal. So without further ado, here's Feel-Good Roundup #2! 
These might not be critically acclaimed or all that original, but it's what we've been watching this week. Enjoy!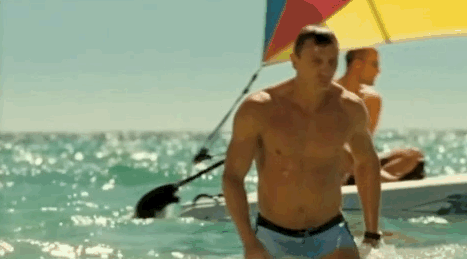 Beaches and Bond? Feeling better already!
1. One Tree Hill (onHulu). Oh, the early aughts.One Tree Hillfeeds my nostalgia for a simpler time in my life in exactly the right way. Hiphugger jeans, teen angst, love triangles, and the earnestness of youth—what more could we ask for? This show is supremely satisfying and so easy to watch. 
2. Casino Royale (on HBO). The action-packed opening sequence, the breathtaking scenery, the perfectly choreographed fights scenes, Daniel Craig in that speedo--need we say more? Since the forthcoming James Bond movie, No Time to Die, has been postponed until November, watch this 2006 stunner to get your Bond fix. It's the best of Craig's Bond movies--and maybe the best of all time. 
3. World's Most Extraordinary Homes (on Netflix). This series is comfort reality TV at its finest, people! Quentin and Caroline, our endearing British tour guides, take us on a world tour of truly extraordinary architecture. Built on cliff's edges, tiny islands, or wind-blown mountains, these houses are phenomenal because of how and where they're built. The show is soothing and exactly what we need right now. 
4. Riverdale (on Netflix). A noir take on the Archie Comics, we've loved it since the beginning. With its totally outlandish plots and constant homage to David Lynch'sTwin Peaks, Riverdale is the perfect escape from reality. #TeamCheryl
5. Younger (on Hulu). Mundane drama? Check. Somewhat unbelievable plotlines? Definitely. Distracting and addictive? YES! Sutton Foster stars as a 40-year-old divorcee moonlighting as a 26-year-old editorial assistant, and the plot that follows is just silly enough that it works.
6. The Marvelous Mrs. Maisel (on Amazon). There is no better escape than Maisel! This show is packed to the brim with witty one-liners, theatrical choreography, and period garb of the late 1950s. The Marvelous Mrs. Maiselis fast-paced and will keep you laughing from one joke to the next. 
7. Scandal (on Netflix). Liz here, coming out from under a rock to finally watch the wildly popular show you've probably all already seen. And honestly? I can think of no better time to be sucked into a DC-based melodrama more outrageous than the current reality we're living in. 
We know television can't actually solve our problems, but it can make social isolation a little more bearable. So, watch what makes you feel good—and wash your hands, cover your coughs, and stay home. We'll get through this! 
Happy streaming,
Grace, Liz, and Tess
Sending you all a virtual hug.